Sweet Potato Casserole.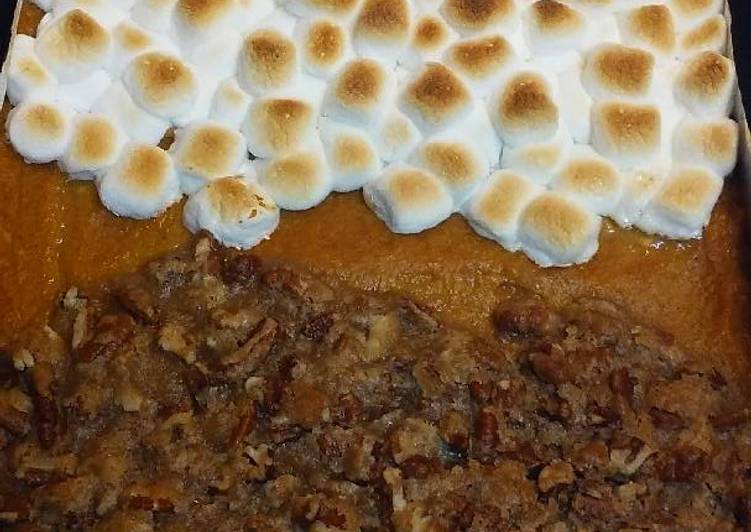 You can cook Sweet Potato Casserole using 17 ingredients and 6 steps. Here is how you achieve that.
Ingredients of Sweet Potato Casserole
Prepare 4 of large sweet potatoes or 5 medium.
You need 1/4 cup of unsalted butter, softened to room temperature.
Prepare 1/2 cup of milk.
You need 1/2-3/4 cup of brown sugar.
It's 1 tsp. of vanilla extract.
Prepare 1 tsp. of ground cinnamon.
You need 1/4 tsp. of ground nutmeg.
It's 2 of large eggs, beaten.
You need Pinch of salt.
Prepare of Optional Topping :.
You need of Mini Marshmallows.
It's of or.
Prepare of Crunchy Pecan Struesel :.
It's 1 cup of chopped pecans.
It's 1/2 cup of brown sugar.
You need 1/3 cup of all purpose flour.
Prepare 1/3 cup of unsalted butter, melted.
Sweet Potato Casserole step by step
Start by roasting the sweet potatoes in a 400°F oven until they are tender. Set them aside until they are cooled enough for you to handle them. Or you could also cook them in the slow cooker. Just wash them, place them in the slow cooker and cook on low heat for 6-7 hours, until they can be easily pierced with a fork..
Once the potatoes are cooled a bit, preheat the oven to 350°F. Line a 9×13" baking pan with foil (for easy cleanup) and grease it. Set it aside..
Place the sweet potato flesh into a large bowl and mash well. Then add in the butter, milk, brown sugar, cinnamon, nutmeg, salt and beaten eggs. Mix until it's all combined. Pour the sweet potato mixture into the prepared baking pan..
For the struesel (if using), just combine all the ingredients in a bowl and stir it all together until it's all moistened and combined..
If using the struesel, top with it and bake for 30 minutes. If topping with marshmallows, then bake for the 30 minutes, then place the marshmallows over the top and switch the oven to broil, just until the marshmallows begin to brown. Keep a close eye on them once the broiler is on so as not to burn them..
To prepare this in advance, prepare everything through step 3, then cover the baking pan with foil and place in the fridge until ready to bake. Take the pan out of the fridge about 20 minutes before you're ready to place it in the oven, to bring it back closer to room temperature, then bake as directed..