Chorizo and eggs, garlic crunchy potatoes. Simple Home Cooking by Me (Luz) Breakfast Chorizo and Eggs with Potatoes Burrito. A quick video on how to make Chorizo Potato Eggs and Tortillas on the grill. Pour your eggs into your mixed potatoes and chorizo and stir or you can fold and make an omelet.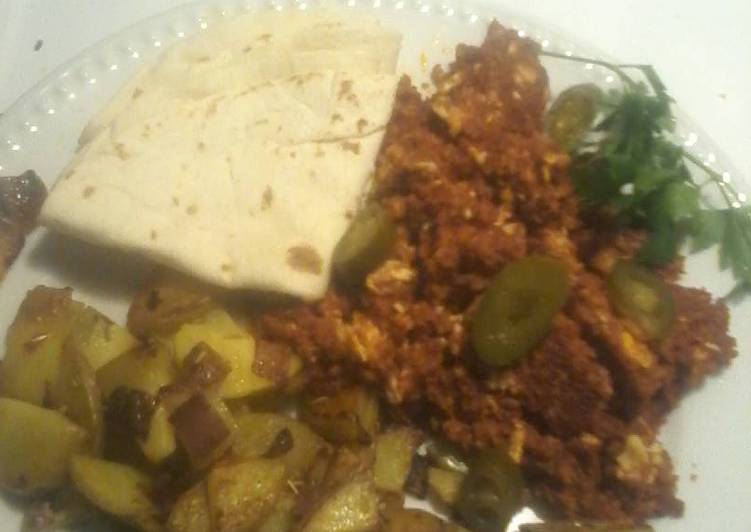 Return the chorizo and potatoes to the skillet and toss with the eggs to warm through and finish cooking the eggs. Mix together potato, chorizo, red pepper, green onions, parsley and garlic; scatter over tart crust. Cook, turning hash occasionally and breaking up with a spoon, until potato is golden brown, cooked This is a fantastic recipe! You can have Chorizo and eggs, garlic crunchy potatoes using 10 ingredients and 5 steps. Here is how you achieve that.
Ingredients of Chorizo and eggs, garlic crunchy potatoes
Prepare 1/2 pound of Chorizo.
Prepare 3 of large eggs.
It's 1 clove of garlic, minced.
Prepare 1/2 of red onion, chopped.
Prepare of salt.
Prepare of pepper.
You need of rosemary.
Prepare 1/4 cup of flour.
Prepare 3 of large potatoes.
You need of Cilantro to garnish.
Super easy to put together and really tasty too! For leftovers, we skipped the tortilla and put the egg on top of the hash. Take the pan off the heat, then add the garlic and the rest. If not serving immediately, allow the chorizo, potatoes, and eggs to cool completely before assembling.
Chorizo and eggs, garlic crunchy potatoes instructions
Chop 3 potatoes into burrito size pieces.
Bring water to a boil.
Boil potatoes until half cooked.
Dredge potatoes in flour, salt and pepper. Fry potatoes, minced garlic, and red onion in skillet on medium heat until brown.
Cook chorizo and add 3 eggs. Cook and prepare until done. Serve with cilantro garnish.
With only eggs and Mexican-style chorizo, these quick and easy scrambled eggs work well when you're looking for a no-cheese breakfast dish. Whisk eggs and salt together in a bowl. In large bowl, with fork, mix eggs, chorizo, and chopped parsley until well blended. Gently stir in potatoes and onion mixture. Add the sliced cooked potatoes and the spring onion and cook gently, stirring occasionally, for five minutes.