Creamy Garlic Crab Spaghetti Squash Boats.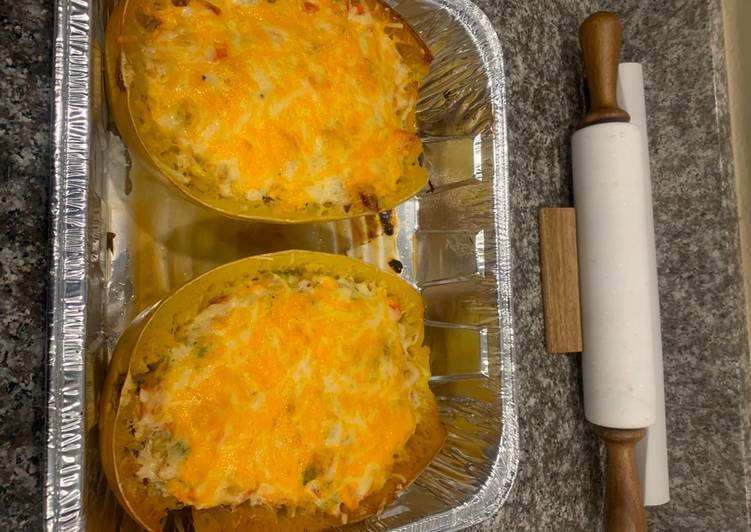 You can cook Creamy Garlic Crab Spaghetti Squash Boats using 11 ingredients and 9 steps. Here is how you cook it.
Ingredients of Creamy Garlic Crab Spaghetti Squash Boats
It's 1 of medium to large spaghetti squash.
You need 1/2 lb of lump crab meat.
It's 4 cloves of finely chopped garlic.
Prepare 1/2 cup of finally diced sweet onion, celery and green bell peppers (trinity).
Prepare 1/2 cup of finally diced sweeties baby peppers (red, orange and yellow).
Prepare 1/2 cup of heavy cream.
You need 2-4 Tbsps of Philadelphia whipped garlic and herb cream cheese.
Prepare 2 Tbsps of Pecorino Romano or Parmasana Reggiano.
You need 1/2 cup of shredded cheese of choice (ie. Italian blend, cheddar blend, mozzarella, etc.).
You need of Mrs. Dash Original, Salt and Pepper to Taste.
You need 2 Tbsps of approximately olive oil.
Creamy Garlic Crab Spaghetti Squash Boats instructions
Poke slits into the spaghetti squash to vent and place in microwave on high for 4-6 mins to soften it in preparation to cut it in half to make your boats. This makes slicing it in half much easier on the hands trust me..
Remove spaghetti squash from the microwave and when cool enough to the touch, cut the top stem off to flatten one end. Turn the spaghetti squash on it's top on the cut side and with a large chef's knife from the top cut down the middle to cut the spaghetti squash in half to form your boats. Using a large soup spoon scoop out the inner seeds and the flesh that it resides in..
Lightly oil the cut side of both boats and place them cut side down in a nonstick cookie sheet or roasting pan. Place in a preheated oven that has been preheated to 400 degrees F and roast the spaghetti squash for 40 mins. Once it is removed from oven, you can let it cool a bit or just using an oven mitt turn the boats over cut side up and fork up the inside flesh to form your spaghetti. Set aside while you make the sauce..
In a large sauté pan, heat about 1 Tbsp of olive oil on medium high heat..
Add your trinity, sweetie peppers and garlic to the pan and season with Mrs. Dash Original, salt and pepper to taste and sauté stirring often until the veggies become a bit translucent. Don't let them brown. Add your crab meat and once again season with Mrs. Dash Original, salt and pepper to taste. Go easy on the salt as you will be adding your parmesan cheese shortly. Just warm the crab through at this point as it's already cooked..
Add your heavy cream and garlic/herb cream cheese to melt it down then add your grated cheese of choice and stir to incorporate and warm through..
Pour your completed sauce mixture evenly over both boats. Don't bother stirring as it will seep down through the forked up flesh of the spaghetti squash. Sprinkle the shredded cheese of your choice on top of both boats..
In a preheated 350 degree F oven place the roasting pan with the completed boats uncovered and bake approximately 20-30 mins depending on how much browning you want on the top of the boats..
Serve immediately and enjoy!.