Baked Grilled Cheese Sandwich. Okay, I felt silly looking at a recipe for grilled cheese sandwiches, but I am glad I did. I also felt silly on how long it took me to get this right, LOL. Learn how to make the Ultimate Cheese Sandwich Recipe!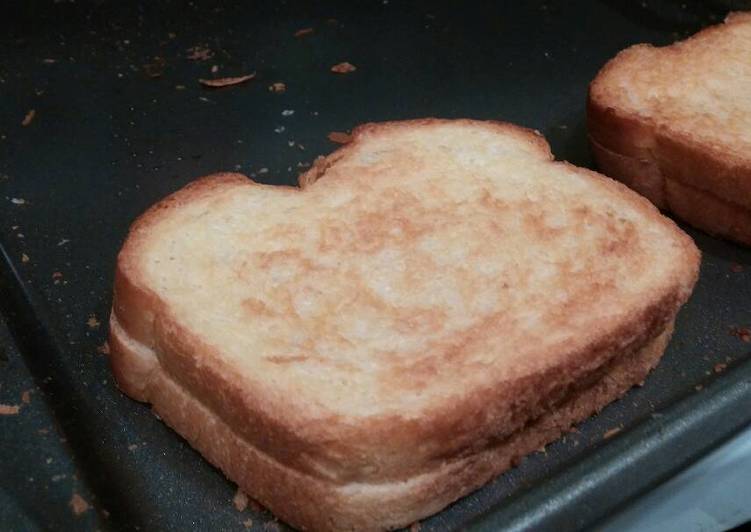 To make these particular sandwiches, I think that Brownberry Whole Wheat Bread You can use your favorite cheese in this easy sandwich. Serve with a simple green salad tossed with mushrooms and avocados. A feel-good classic, the grilled cheese sandwich can be simple, elaborate, or totally offbeat, ranging from meaty to vegetarian or even vegan. You can have Baked Grilled Cheese Sandwich using 3 ingredients and 6 steps. Here is how you achieve that.
Ingredients of Baked Grilled Cheese Sandwich
It's 1 of load of bread.
You need of sliced cheese of choice.
You need of softened butter.
The best grilled cheese sandwich recipes ever! A grilled cheese sandwich stuffed with all of your favourite taco fixins' including seasoned ground beef, salsa, lettuce, tomato, sour cream, guacamole and of course plenty of ooey gooey melted cheese. My family loves grilled cheese so when they asked for it I wanted to try something new. This was the best grilled cheese, nice crunchy bread with melted cheese.
Baked Grilled Cheese Sandwich instructions
Preheat oven to 425°..
Butter 1 side of 9 slices of bread putting them butter side down on a large baking sheet..
Top each piece of bread with sliced cheese..
Butter 1 side of each remaining bread topping the sandwich with a slice, butter side up..
Bake for 6-8 minutes, turn sandwiches over and bake additional 6-8 minutes..
Best served with tomato soup..
Place other piece of bread on top, lightly butter side up. Grilled cheese is an American classic and a staple dish for many because it's easy to make and the results are so delicious! The traditional stovetop technique works great, but using the toaster oven is even easier and requires very little clean up. Toasted grilled cheese sandwiches are also healthier. Slice the grilled cheese into sticks, either in thirds or quarters, depending on the size and width of your thermos.