Nikki's Brown Sugar Banana Bread.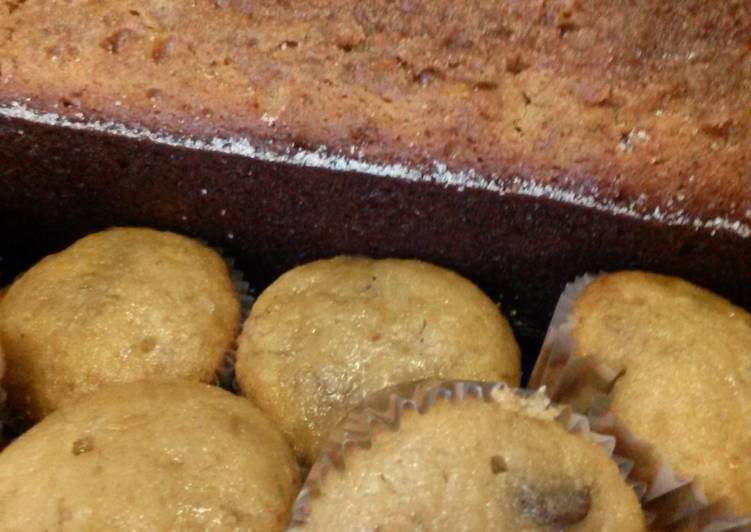 You can cook Nikki's Brown Sugar Banana Bread using 11 ingredients and 7 steps. Here is how you achieve that.
Ingredients of Nikki's Brown Sugar Banana Bread
It's 3 of super ripe bananas, mashed.
It's 3/4 cup of + 1 tbsp sugar.
Prepare 3/4 cup of brown sugar.
It's 3 of eggs, lightly beaten.
You need 2 tsp of vanilla.
Prepare 1/2 cup of melted butter.
It's 1/4 cup of milk.
Prepare 2 cup of AP flour.
You need 1 tsp of baking soda.
It's 1/2 tsp of salt.
It's 1/2 cup of chopped walnuts, pecans, chocolate chips, raisins, shredded coconut, or whatever else you like.
Nikki's Brown Sugar Banana Bread step by step
preheat oven to 350°F.
grease 9"x5" loaf pan and put 12 baking cups in mini muffin pan.
in a medium bowl mix eggs, mashed bananas, sugars, melted butter, vanilla and milk. beat with electric mixer about one minute.
add flour, salt, and baking soda and blend with a wooden spoon until just moist and mixed. gently stir in nuts or other add-in. pour batter into pans.
if you like, you can bake covered with foil the first 20 minutes or so to prevent over browing, then remove and bake another 40 minutes approximately. cooking times can vary, so check regularly..
it is done when its golden brown, and toothpick inserted in middle comes out clean. if middle is still uncooked and edges are getting dark, i just cover them only with foil and lower the temp to 325, and it still comes out moist and yummy.
let cool before serving. if desired, can be drizzled with butter and/or sprinkled with cinnamon sugar, brown sugar, or even honey, or whatever else you dream up! now try not to eat it all before the kids get home like i almost did! lol.