Strawberry Tart With Pastry Cream.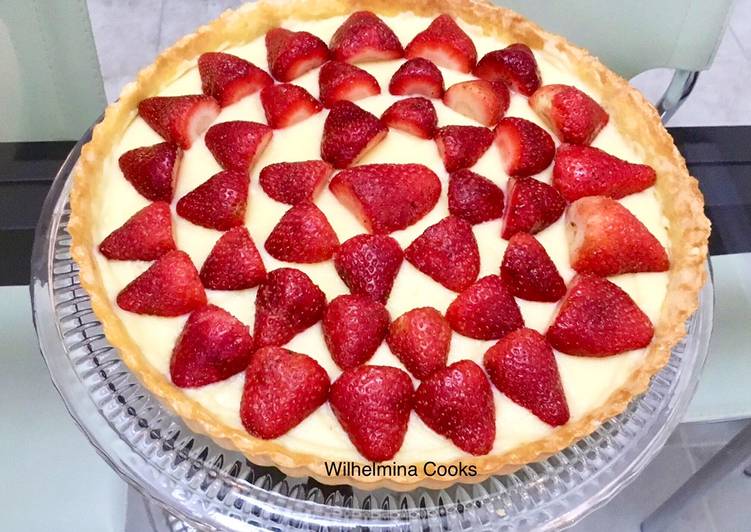 You can have Strawberry Tart With Pastry Cream using 19 ingredients and 7 steps. Here is how you cook that.
Ingredients of Strawberry Tart With Pastry Cream
Prepare 400 g of Strawberry.
You need 1/4 Cup of Sugar.
You need of ✨Crust✨.
It's 150 g of Butter.
It's 50 g of Sugar Powder.
Prepare 1 Tsp of Vanilla Extract.
It's 1/8 Tsp of Salt.
You need 1 of Egg.
It's 50 g of Ground Almond.
It's 230 g of All Purpose Flour.
You need 1 of Egg Yolk for brushing.
Prepare of ✨Pastry Cream ✨.
Prepare 1 Cup of Milk.
Prepare 1/2 Cup of Heavy Whipping Cream.
Prepare 6 of Egg Yolks.
Prepare 1 Tsp of Vanilla Extract.
You need 2 Tbsp of Corn Starch.
Prepare 20 g of Salted Butter.
Prepare 1/2 Cup of Sugar.
Strawberry Tart With Pastry Cream instructions
Preheat your oven to 350°F (180°C). In a medium bowl, mix strawberries with 1/4 cup of sugar. Cover it with plastic wrap and let the sugar dissolve into the strawberries' juice. It can take around 40-60 minutes..
To prepare the crust, place the flour, almond flour, salt and sugar in a food processor and mix until just combined. Then add the butter, egg and vanilla extract and process the mix until the pastry just holds together when pinched. Wrap it up and chill until hardened..
To make the pastry cream, add the sugar and half of the milk to a pot. Then, bring it to a simmer over medium-high heat. In a separate small bowl, place corn starch, egg yolks, vanilla extract, heavy whipping cream, and the rest of the milk. Mix it very well. Then, pour the egg mixture into a medium saucepan and cook it over medium heat..
When it starts to boil, whisk cream mixture very quickly for another 30-60 seconds until it becomes thick. Remove it from the heat and then mix in the butter well. Transfer the pastry cream into a bowl and cover it with plastic wrap. Chill it completely in the fridge. Mix the pastry cream with a whisk before consuming so it regains a smooth texture..
Roll out the dough and fit it into a tart pan. Cut off the excess dough on the sides. Then, lightly prick dough with a fork and chill it for 20 min. Line the tart pan with aluminum foil and fill it with rice to prevent the bottom of the crust from puffing up. Bake the tart crust for 20 minutes. Remove the rice and foil and then use a pastry brush to apply an egg wash onto the pre-baked tart crust..
Bake the tart crust for another 10 minutes. Remove it from oven and place on a wire rack to cool. Fill the tart crust with the pastry cream..
Arrange the strawberries in a decorative fashion on top of the cream. Enjoy!😉.